Let's face it most of us have endless stacks of paperwork, magazines and unfortunately tons of junk mail entering our homes and offices.  In all reality though, all paperwork is the same whether you work in an office, from home, or simply handle your families' papers.
The difference between highly organized people and the not so organized is that they realized one thing: When it comes to paperwork the only way to get it under control is: Habitual Upkeep! We all have to find our own way to dealing with it and one way to start is: Define your own terms of what's worth keeping and what's not. Getting out all of the junk will narrow down the amount of papers and make it so much easier to deal with what's left.
Follow These Tips and You Will Be More Productive In No Time 
Start by dedicating one area, most people have an office space but do not use it for various reasons – many times they don't enjoy being there in the first place. If this is you, maybe it's time to reconsider, update and redesign your office space or even change locations within your home. You want to make sure you enjoy being in the space and that it's convenient – anything to make the task of dealing with papers enjoyable again.
Top Tip #1 - My secret to efficiency is to plan, plan and plan some more – set yourself-up with achievable, small task goals to accomplish each week and this is how: Spend five to ten minutes at the end of each work day, listing six Must-Do's for the next day. Whatever you do not get accomplished put on the list first the following day.
"The trouble with not having a goal is that you can spend your life running up & down the field & never score." ~Bill Copeland 
Top Tip #2 – Ask yourself three questions when designing your office space. 1.) Who is going to use the space? 2.) How often will the space be used? 3.) What tasks will be done? Answering all three and considering the needs of everyone will ensure that everyone will enjoy using the space. I always assign an in-box for each family member to keep papers separate and visible for everyone, and if you have kids – consider designating a small work space including small bins to store art supplies for easy clean-up.
Pottery Barn Kids – My First Table and Chairs –
 http://www.potterybarnkids.com/products/my-first-table-and-chairs-set-espresso/?pkey=dtabletop-tables-and-chairs&
Top Tip #3 - Set boundaries and stick to them – challenge yourself by making one of your goals to banish clutter once and for all. Anything that does not belong in your office at this time should be removed in order to be highly efficient. Less really is more in an office.  Choose pieces you love and invest in quality and inspiring office supplies for long lasting  "Organized Impressions."
Top Tip #4 – Make use of trays and caddies to keep tiny items tidy and accessible. Always consider frequency of use and minimize movement at all cost – be more productive by keeping essential everyday items on top of your desk and in easy reach and find a home for everything else in close proximity.
Top Tip #5 – Add your personal touch! It's been proven that we work more efficiently and are more productive in spaces we enjoy being in. By adding your personality you are making the use of your office a wonderful experience. Only a place that you can concentrate will let you create quality work. You don't just owe it to yourself, it is VITAL to set yourself up with a proper work space if you work from home or run your business out of your home.
Decorology – Photo By Ashley
Top Tip #6 – Do not let your mail pile up, leaving your mail unattended may not only be costly and add to your daily stress but can be overwhelming to clean up. Commit to opening your mail daily, PERIOD.There are only three things you can do with a piece of paper FAT – File, Act and Toss. Implement this rule with every single piece of paper that enters your home or office.
"What you choose to to with a piece of paper is not nearly as important as doing it consistently." ~Barbara Hemphill
Top Tip #7 – Create folders for paperwork that require action, such as Pay Bills, File, Discuss With, Read, To Do – these can vary person by person and store the folders in a desktop file organizer – for easy visibility and accessibility.
See Jane Work – Basic File Folder
Top Tip #8 – Make a calendar your new best friend and combine personal/family activities with your business activities. Every time you schedule something write it down, try using different colors for business and personal or assign a color to each family member. Women are highly visual and this doesn't get more visual than this. Some prefer an online calendar and some like to write everything down – whichever way you choose is totally up to you – the important thing here is to use this tool – habitually!
Top Tip #9 - Start over ASAP – if your filing system isn't working for you – do not waste time fixing it. Paper piles accumulate for two reasons. 1.) You never designated a file or a place. 2.) Paper does not get filed out of fear you will never find the information when you need it – so you leave yourself little reminder piles thinking that will do the trick. Set yourself up with a functioning filing system, the sooner the better – the longer you wait the harder it will be.
Top Tip #10 – You have a functional filing system but somehow the filing still doesn't get done? Grab that calendar of yours and schedule 15 – 30 minutes EVERY week just for filing – preferably the same day of every week.
Top Tip #11 – Greatest Productivity Tool Ever! Invest in an Hourglass – set the timer and go! When the time is up – check if you are still doing what you set out to do. It is so easy nowadays to get distracted – this will help you stay on track!
Hourglass – Photo by Viper193755
Top Tip #12 – Sticky Note Galore? Get rid of all of your random notes and slips of paper. How you ask? Keep a small notebook at your desk to write down the information or place the sticky notes into the notebook and make use of a note app on your computer. Personally, I love using Evernote as it syncs all of your devices, this way you will always have the information you need on hand. – Say good bye to loose note clutter once and for all.
Top Tip #13 – Are you struggling to remember all of your daily To-Do's? Here is another very simple yet highly creative way of how to accomplish getting things done!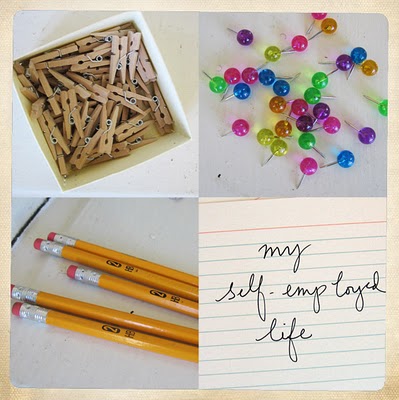 Jen Hewett – Guide to Managing it all
Top Tip #14 – Put your walls to work! Out of sight out of mind? Not to worry. In my office organizing and design projects a bulletin board or clip board is almost always a must!
Nailhead Backboard via Decorpad
Top Tip #15 – Spend ten minutes at the end of every day, clean your desk and return items back to their assigned locations. Making it a joy to start every morning with a fresh and clean looking desk.
By, 
Nadine McCoy 
Organized Impressions